How to make clients happy and successful
An interview with René Drews, Head of Client Services eviom Group
Since the beginning of this year, we are so glad to work with a new colleague, René Drews. René became our Head of Client Services on January 10 th . What kind of fields is he working on, why did he choose eviom and what challenges exist in the field of digital marketing from his perspective? Let us explore his answers in the following interview.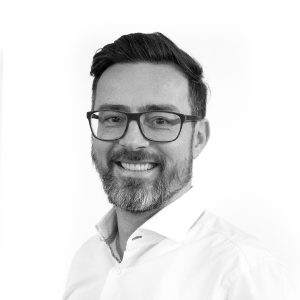 1. Q: Where and in which position did you collect the experience in the field of digital marketing?
A: I have been working in digital marketing since 2011 and have collected extensive working experience in the fields of E-Mail marketing, Omni-Channel-Marketing, Affiliate Marketing, SEO, SEA and Social Media Marketing in different firms. At the same time I took charge of key account management, new business development, business partner management and was senior client partner as well.
2. Q: Why is the digital working atmosphere so fascinating for you?
A: What attracts me most is the combination of creative, analytic and data-based working. There are many available software options and tools to support all the challenges and missions. Besides, we can work in a modern and challengeable environment, which consistently brings new chances and potentials. Thus, it will never be boring.
3. Q: What is your everyday job?
A: At eviom I am in charge of account management, staff training and resource planning. Besides, I also manage customer projects and investigate cross- and upselling potentials. A further mission includes acquiring new customers and supporting new business developments.
4. Q: What is fun for you with your roll at eviom?
A: I am very glad about the combination of acquiring new costumers, team building and training and developing staff. My job has lots of variety and I can always learn something new every day.
5. Q: Why did you choose eviom?
A: What attracted me most is that it is a firm from Munich and that the directors are all involved here. Besides, I value the family atmosphere and our motivated and agile team. There are many free spaces for new ideas and possibilities for development, not only personally but also for the firm.
6. Q: What kind of challenges exist in the field of digital marketing in the following years from your perspective?
With the development of digitalization, the number of large agencies and firms following the trend is growing larger. However, there might be a lack of professionals. It is properly a challenge not only for firms but also for clients. That's why I chose eviom: the team is made up of experts who have definitely specialized in digital marketing, and they also supply
consulting services that are client-oriented.
We are very glad that we can work together with René for business projects and supply services of digital marketing consulting together. Are you interested in our products and services? Do you want to inquire more information about digital strategy information in Europe? Just get in touch with us and we'll be glad to help you!