Our team is getting bigger!
Kara and Jianing – nice that you are now part of eviom!
Our eviom team is getting bigger – Kara supports us in the Marketing and Sales team and Jianing is studying communication sciences and is part of the China Marketing Team as an intern.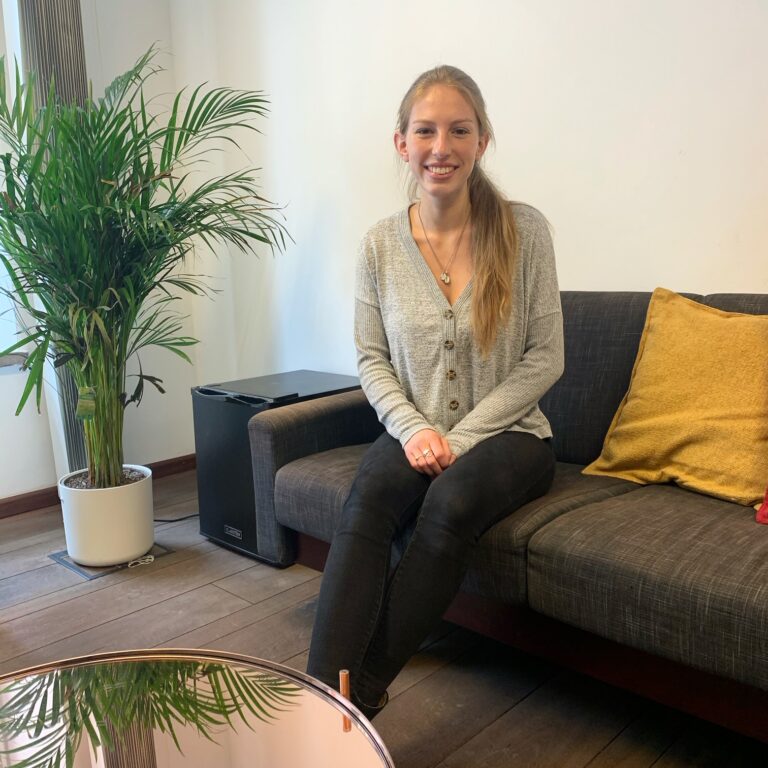 Tell us more about yourself. What did you do before eviom?
Kara: After finishing high school in 2017, I started working in the Disney Store in Munich. During my time there, I worked frequently with the Disney Store Marketing team in London, and I was so impressed with their work that I decided to pursue a career in marketing. I then started studying business administration at Munich University of Applied Sciences, where I am now in my 6th semester with a focus on marketing. I spent my internship in the marketing team at McDonald's Germany and am now looking forward to getting to know another side of the marketing world at eviom.
Jianing: I'm studying communication science at the University of Munich. In addition to my studies, I worked often as an interpreter at the trade fair. My clients are mostly Chinese companies that want to develop their business in Europe. I've noticed that I really enjoy working in a field where the exchange of language and culture plays an essential role. In my spare time, I enjoy shooting and editing videos. I am active on the Chinese platform TikTok-Douyin and have built up a small reach there.
How did you learn about eviom?
Kara: I've always kept my eyes open for a marketing working student position that would allow me to supplement my studies with hands-on experience. When I stumbled upon eviom's job advertisement for a student trainee in Marketing & Sales, I just couldn't pass up the opportunity to apply here.
Jianing: During my search on LinkedIn, I came across eviom's job advertisement. For a long time, I had been looking for a position where I could bring my intercultural skills with me and, most importantly, get a realistic picture of a future career. Eviom convinced me with its ties to China and the variety of tasks. Furthermore, eviom offers interns the opportunity to contribute their ideas and take on small (partial) projects right after they have joined the company, which excites me a lot because this is the only way to gain real experience in a short period of time.
What do you love about digital marketing, Kara?
Kara: The world is becoming increasingly digital and this process has been accelerated even more by the pandemic, which means that marketing in the digital space is also becoming more and more important. What I find particularly exciting about digital marketing, however, is that the possibilities there are practically What I find most exciting about digital marketing is that the possibilities are practically limitless. New digital marketing technologies and types are constantly emerging, resulting in new trends. It is a very dynamic field, and you must always be thinking ahead to stay current. New technologies and types of digital marketing are constantly emerging, resulting in new trends. It is a very dynamic area and you have to keep thinking ahead to stay up-to-date.
What do you love about China Marketing, Jianing?
Jianing: It's easy to lose sight of how quickly digitization is progressing in China. Even though I've been in Germany for 3 years, I've been still keeping an eye on the Chinese social media platforms: I chat via WeChat and QQ, read the news from Weibo and Zhihu, and even shop online on Alibaba. Still, whenever I travel back to China, I am always astounded by the new technologies and digital services there. I think the same is true for European companies who want to achieve success in the Chinese market. You have to always keep yourself informed, redesign strategies, and implement a variety of tactics. And that's exactly what I find challenging, but at the same time very fascinating.
What projects and tasks do you have at eviom?
Kara: I work in the marketing & sales team at eviom where I support internal marketing with the primary goal of generating new leads for eviom. My tasks mainly consist of working with our marketing automation tool HubSpot, writing blog articles on currently relevant topics and trends in digital marketing, publishing them on the eviom website, and performing PR tasks.
I will also take over eviom's social media channels.
Jianing: I support the China team on various customer projects. My current responsibilities mainly include creating blog articles for Wechat, video editing, search engine optimization as well as content creation on Baidu properties.